This knowledge base article will explain how to configure inclusion and exclusion rules for your Google Active Integration. Please ensure you have followed this configuration article before trying to use Google Workspace Synchronisation and Gmail Active Delivery.
Please note, only one Active Integration should be added to an account. If you require multiple Active Integrations, please contact your Customer Success Manager or support@phishingtackle.com about enabling the Partner Portal.
Domains
By default, Active integration will synchronise all available domains from your connected Google workspace account.
It's more efficient to only include the domains you want to import (e.g., phishingtackle.com) than it is to exclude the domains you don't want to use (e.g., phishingtackle.onmicrosoft.com etc...). If you have multiple domains, you will need to list each on a separate line.
Groups
You may have a requirement to either include or exclude specific groups. If you wish to import specific groups, you can specify these in the Groups to Include and the Groups to Exclude sections. Ensure that you specify one group per line. The tool synchronises with Google Workspace Mailing and Security Groups, but it will not synchronise with Nested Groups (groups within groups) or Dynamic Groups.
Recipients
As with Domains and Groups, you can include or exclude individual recipients. Simply enter their email address in the respecting Recipients to Include or Recipients to Exclude areas. Ensure you specify only one recipient email address per line.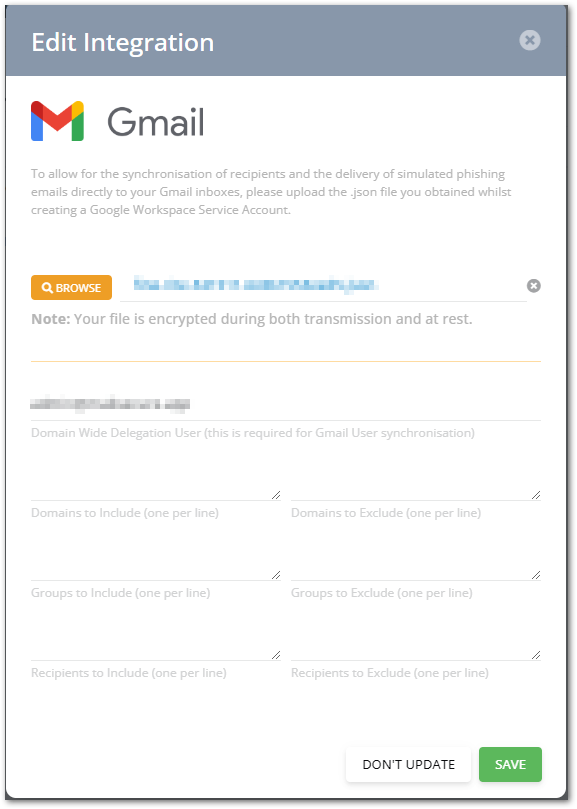 Exclude follows Include
Be mindful that all exclusions are processed after all inclusions.
For example, if you have recipients in multiple groups within Google Workspace, be aware that if one of their groups is excluded the recipient will not be imported.
Manually Imported recipients will be updated but not duplicated
If you have previously added your recipients to the platform using a manual process (for example, importing via CSV or entering individually), those recipients will simply be updated with any new information that Google Workspace holds, including groups.
Groups will become tags
Any Google Workspace "Groups" a recipient belongs to will be added to the recipient as a "Tag". If the tag does not exist within the Phishing Tackle platform it will be created at the point of import. All contact information will be synced as-is.
Use Google Workspace to manage recipients and Phishing Tackle for tags
Once Active integration is synchronised, we recommend managing your recipients through Google Workspace not the Phishing Tackle Platform. Any information removed from the recipient within the platform will just be added back in on the next synchronisation, so it is best to use Google Workspace to make any changes.
If, however you need to add additional tags to a recipient, this can still be done within the Phishing Tackle platform.
Please let us know if you require any further assistance, you can contact our support team by clicking here. Or by sending an email to support@phishingtackle.com