Adding Additional Email Domains to Your Account
If you have a requirement to use email addresses with a different domain to your primary account (such as yourdomain.com, yourdomain.co.uk, yourdomain.fr etc...) then please follow the below instructions on adding these additional domains and sub-domains.
It's very simple to add new domains to your Phishing Tackle account, simply follow the guide below, or, if you know exactly which section you are looking for, click the heading below:
Before you begin
How to Add a New Domain
How to Delete a Domain
Before you begin
YOU MUST:
Ensure you have controlling rights over the new domain, with the ability to access and edit DNS entries.
Be able to allowlist within the domain's mail environment to allow uninterrupted delivery of emails.
YOU MUST NOT
Add any domain/user from another organisation to the platform without their express permission.
Attempt to add MSP/MSSP customers to your primary account. These should be added via the Partner Portal.
How to Add a New Domain
Click on "Organisation" > "Domains" under the SETUP heading of the main menu.
Click "+ADD DOMAIN".


Enter your domain (or subdomain) details into the dialogue box and hit "SAVE". This will add the new domain entry to your list and display the DNS TXT Record you'll need in This article.


To copy the DNS TXT Record, just click the box containing the TXT entry and it will be copied to your clipboard.


Once you've added the TXT Record to your DNS, hit the Verify button and you'll get a green tick if it is configured correctly. As soon as the domain is verified, you can add recipients from that domain for use in your simulated phishing campaigns.

If you attempt to add a recipient from a domain that is not yet verified, you'll see the following error: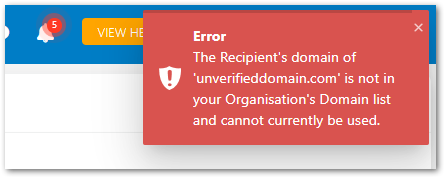 How to Delete a Domain

To delete a domain from your account, simply click the drop-down menu next to the domain name and hit "Delete", then hit "DELETE" in the dialogue box that follows.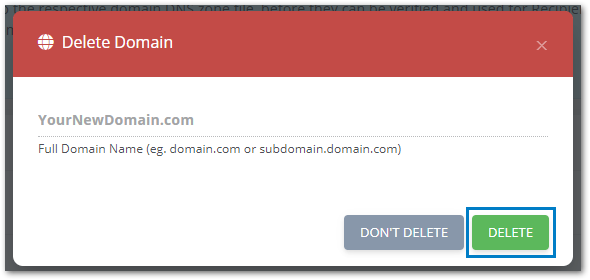 NOTE: You will have to remove all associated recipients from the platform before you can delete the domain.
If you need any further assistance with the Phishing Tackle platform, don't hesitate to submit a support ticket.