In this article we will learn how to automatically install/roll-out the Microsoft 365 (formerly Office 365) Outlook Phish Hook add-in button to all users at once.
The Phish Hook Button add-in for Microsoft Outlook / Microsoft 365 (formerly Office 365) gives end-users the ability to report suspicious emails. The button allows your employees to take an active role in managing the problem of Phishing and other types of malicious emails. This has the benefit of providing your IT/security team with early warnings of possible phishing attacks or malicious emails, allowing them to take effective action to prevent security or network compromise.
The button will also track if your users report our simulated phishing emails, so you can see which users are successfully engaging and identifying potentially malicious emails.
Supported Mail Servers:
You will need one of the following servers:
Microsoft 365 (formerly Office 365)
Exchange Server 2016, Hybrid Only - Version 15.1.544.27 or newer
On-Premise Exchange Server 2016 or 2013
Supported Mail Clients:
Outlook 2013 for Windows
Outlook 2016 for Windows/Mac
Microsoft 365 (formerly Office 365) OWA
Note: Steps 1-5 are relevant for ALL SUPPORTED MAIL SERVERS.
All Mail Servers: From the Phishing Tackle Dashboard: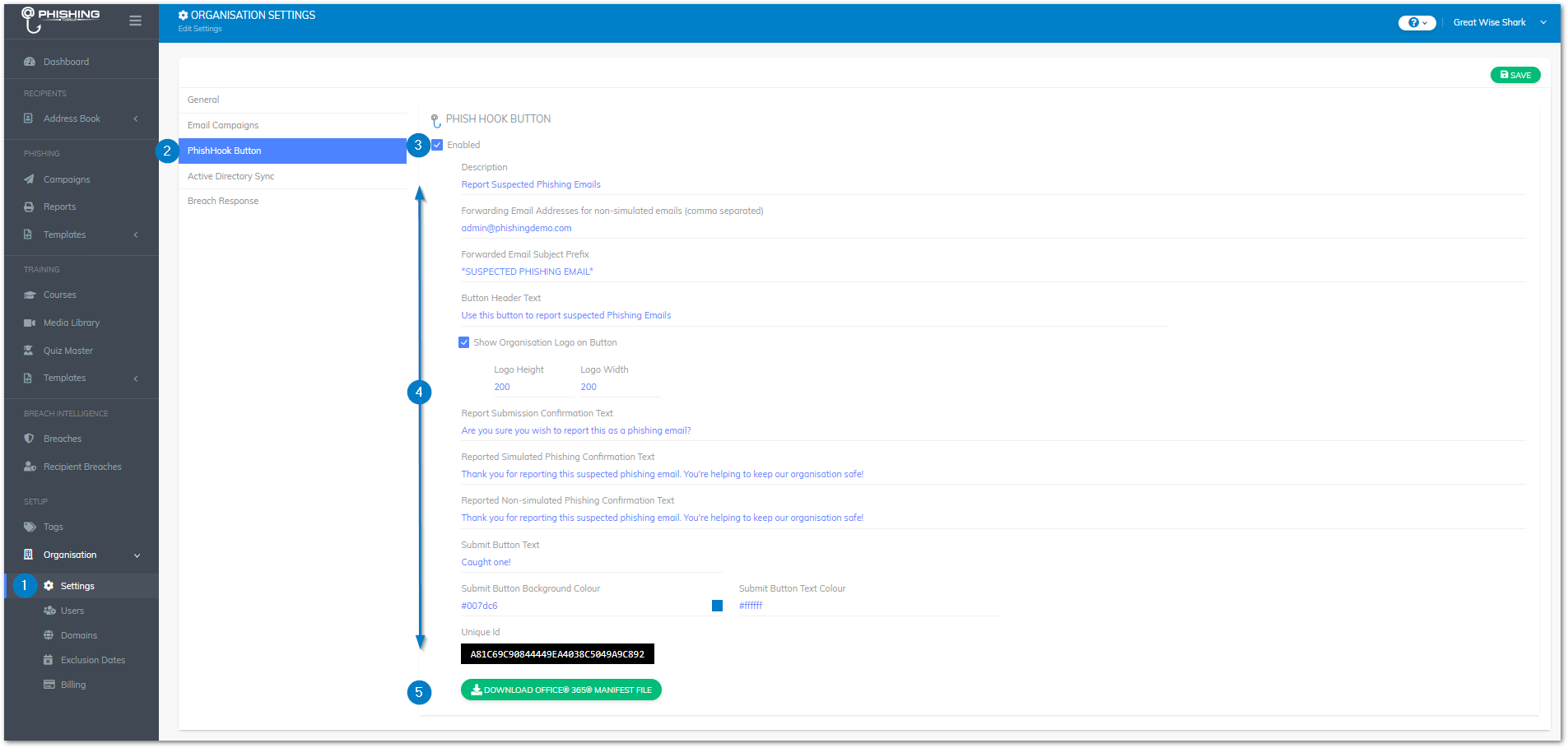 Click "Organisation" > "Settings" on the main menu
Click "PhishHook Button"
Check "Enabled"
(Optional) Adjust the default settings to match your organisation

Download the Office®365® Manifest File and store in a memorable location (NOTE: Although the name states Office 365, this manifest is for use with ALL supported mail servers)
Jump to:
Microsoft 365 (formerly Office 365)/Exchange hybrid
On-Premise Exchange 2016 & 2013
Microsoft 365 (formerly Office 365) / Exchange Hybrid 2016
From the mail server Admin portal: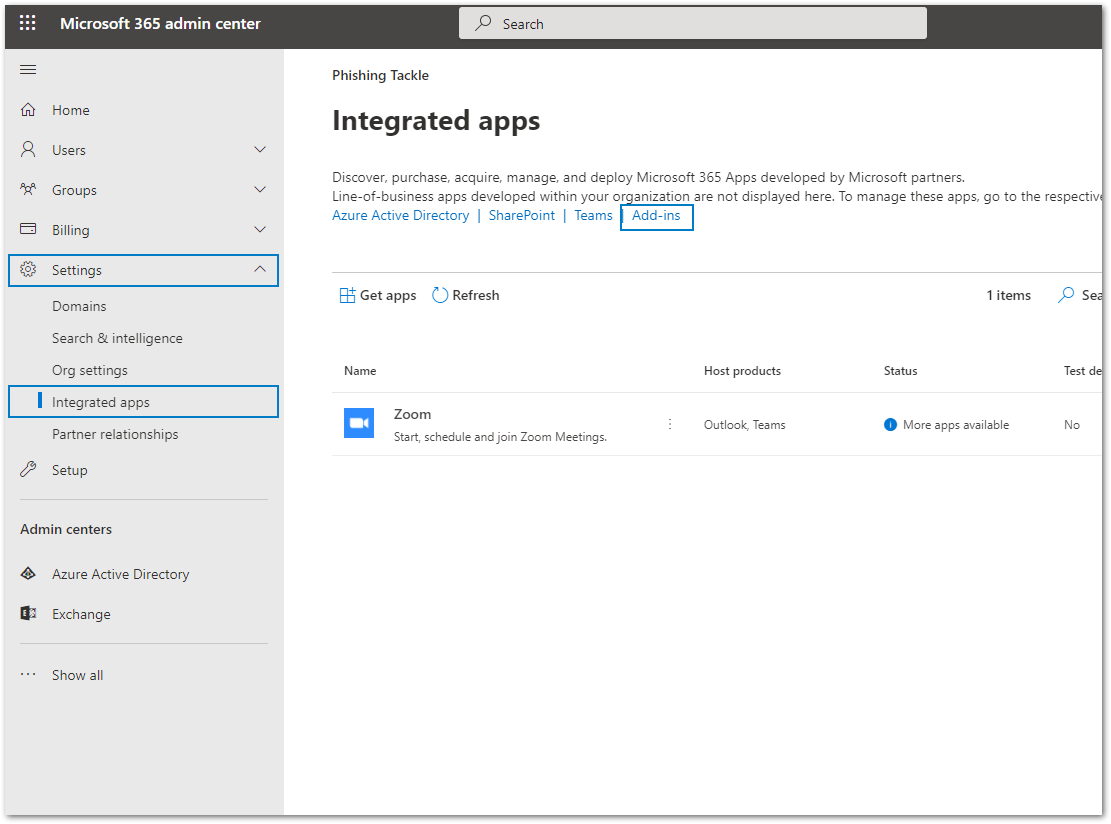 Click "Settings" > "Integrated apps" > "Add-ins" on the main menu.



Click "+ Deploy Add-in"




Read the notice about Centralized Deployment.
Click "Next"




Select "Upload custom apps"


Select "I have the manifest file...", hit "Choos File", then select the Office® 365® Manifest File you saved earlier, then hit
Hit "Upload"


Select which users have access to the Add-in
Select the deployment method


We recommend choosing "Fixed"

Click "Deploy"


After a few moments, you should then be met with the above screen:
PLEASE NOTE the message saying it can take 12 hours for it to become available. Although the Phish Hook™ button may appear within just a few minutes, it may not be fully stable until the full 12 hours has completed. This is purely down to the Microsoft­­® architecture and our support desk will not be able to support the button before this period is completed.
Your add-ins area should now show the Phish Hook add-in:

Removing Centrally Deployed Add-in
If you wish to completely remove the Add-in from your Microsoft 365 (formerly Office 365) account, first, follow the above instructions to access your Office 365 Admin "Add-ins" section.
Locate the Phish Hook button in the list and select it by clicking the corresponding row.
When presented with the following image, select "Remove add-in" which is usually found at the button right of the screen.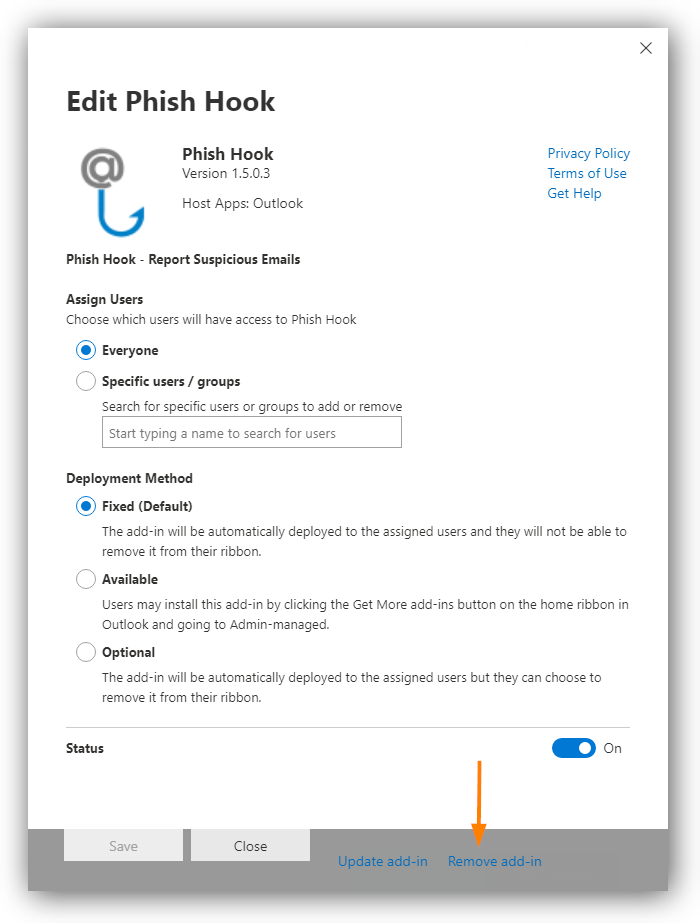 Once deletion has been confirmed via the pop-up box that will appear, the Phish Hook will be removed from all your users.
On-Premise Exchange 2016 & 2013
Log into the on-premise Exchange Admin Center (EAC)
Click "Organization" > "Add-ins" or "Apps"
Click "+" to add a new add-in
Select "Add from file"
Locate the manifest file downloaded previously
Click "Install"
This may take some time to propagate and will then install on all connected Outlook clients.
Proxy Servers
If your end-users are behind an internet proxy you will need to ensure they can connect to the following URLs.
outlook.office365.com
outlook.office.com
tacklephishing.com (please note the reverse order of Phishing Tackle)
For more information regarding On-Premise Exchange Add-in management, including removal and advanced installation, please click here.