In this article, we will cover Phishing Tackle's CSV Recipient import function.
This is an effective method for importing multiple recipients while simultaneously adding tags and other information.
We provide a sample CSV import template, making importing even simpler. This is detailed in the steps below.
From the main dashboard: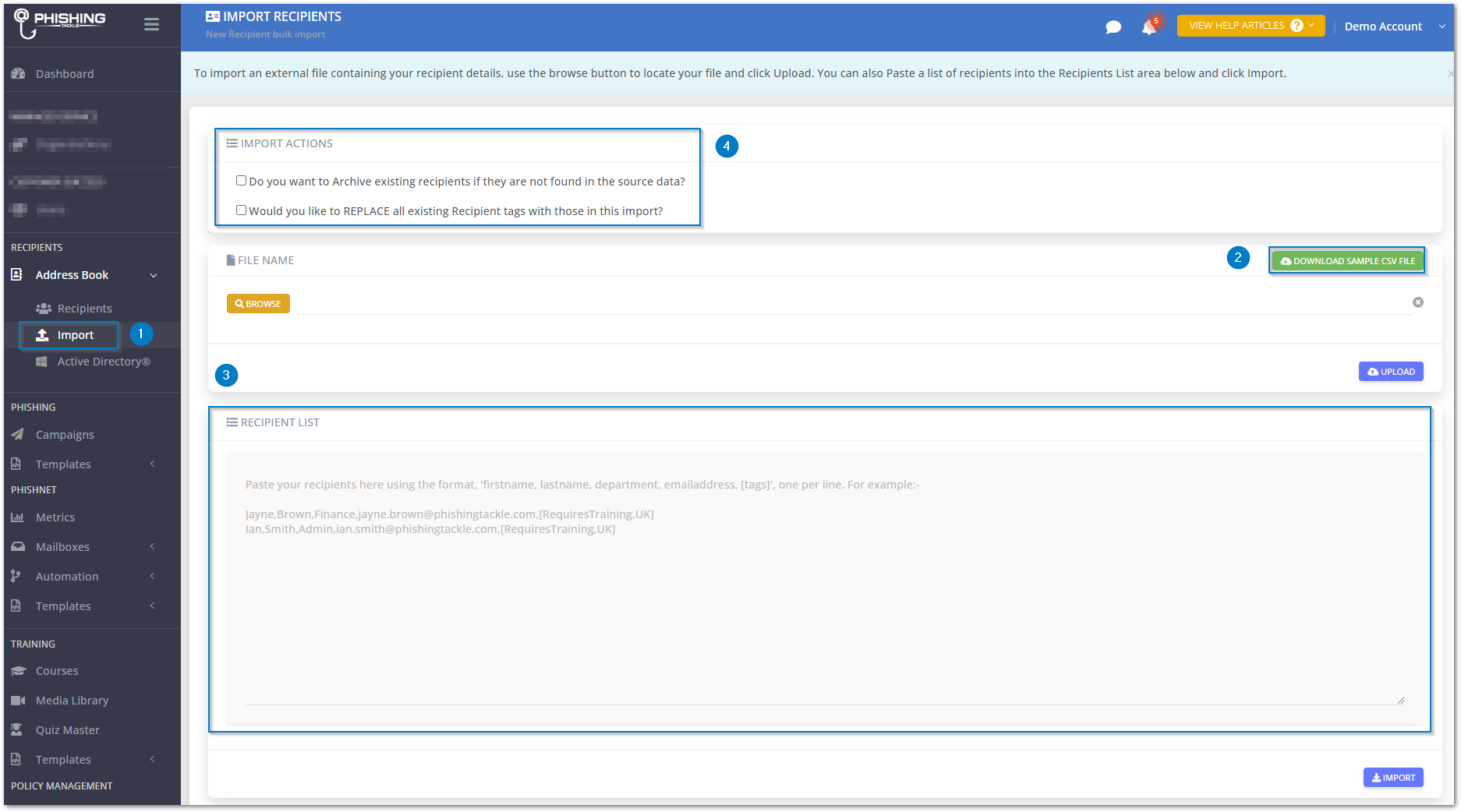 Click Address Book > Import on the main menu
Click DOWNLOAD SAMPLE CSV FILE, and open the file:



Add all required recipient data.
NOTE: If you wish to add any tags, simply add the title Tags to the next available column and populate the rows as required.
For Single Tags:

For multiple tags:
 
Click BROWSE, locate and select the edited CSV File.
Click UPLOAD.



(Optional) You can also paste the CSV entries directly into the RECIPIENT LIST box

Use the format 'firstname,lastname,department,emailaddress,[tags]' (No Spaces after the commas) eg :-


Ian,Smith,Admin,ian.smith@phishingtackle.com,[RequiresTraining,UK]


NOTE: If you wish to add multiple tags to the imported recipient, you must enclose them in square brackets eg. [tag1,tag2,tag3].  If you wish to simply add a single tag, no square brackets are required.

Tags are very useful for grouping recipients. Be mindful of adding tags while you import recipients as once they are imported, you will need to update each recipient individually to add new tags.
Click IMPORT when ready.

NOTE: you can use the IMPORT or UPLOAD buttons interchangeably, both will update everything from the uploaded CSV and the Recipient List.

(Optional) Archive recipients not found in source data.


As the title suggests, this will automatically archive any recipient already in your address book which is not present in the newly imported CSV. This is very useful for automatically removing unrequired recipients.
NOTE: You cannot add recipients from an unverified domain. To verify a new domain, please follow this article.
Refer to this article if you need to edit recipients once they have been imported.
Please let us know if you require any further assistance, you can contact our support team by clicking here. Or by sending an email to support@phishingtackle.com