If you're experiencing any difficulties while using the Phish Hook button this knowledge base article will provide you with a comprehensive set of troubleshooting steps that you can follow to resolve the issue.
The Phish Hook button appears unresponsive in Outlook Desktop
If you're experiencing unresponsiveness with the Phish Hook button in Outlook Desktop, try the following troubleshooting steps:
Simply click on another email and then return to the email you're trying to report. This can help refresh the button's functionality.
Restart Outlook Desktop. This step can fix most issues with web add-ins.
Try using Outlook on the web (formerly known as OWA) to test the button's functionality. If it works in Outlook on the web but not in Outlook Desktop, contact your IT administrator. There may be a firewall or security rule blocking Outlook Desktop from connecting to our servers. This section of our guide will explain which egress routes are required to use the Phish Hook button.
Check with your IT administrator to determine when the button was deployed. If it was deployed using centralised deployment, it may take at least 12 hours before the button becomes fully functional.
The Phish Hook button is not forwarding non-simulated emails to the correct mailbox
As an admin user, carefully check the email address in the setting "Forwarding Email Addresses for non-simulated emails". If using multiple addresses, they MUST be separated by commas (not semicolons or colons).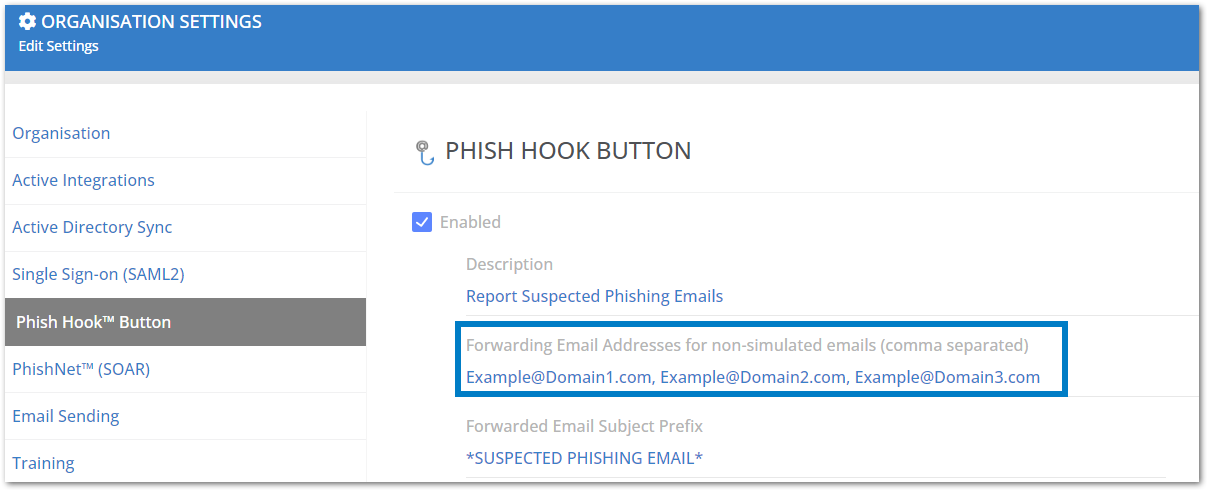 A simulated phishing email does not arrive at the forwarding email address after clicking the Phish Hook button, though it has been deleted from the original mailbox
The Phish Hook button is not designed to forward simulated phishing emails. Its purpose is to avoid raising false alarms and report only non-simulated emails to your forwarding address. Therefore, if you attempt to use the Phish Hook button to forward simulated phishing emails, it will not do so.
The Phish Hook button appears grey or is missing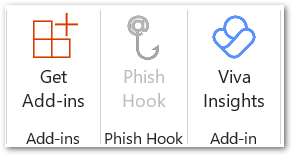 In outlook to report an email using the Phish Hook button the Reading Pane must be enabled. The Phish Hook button will be greyed out if your Outlook inbox does not have Reading Pane in use. Microsoft has created an external article here that explains how to enable a reading pane. This is due to technical limitations set by Microsoft.
This issue can also be caused if a user attempts to report an email from a "Shared mailbox" Due to restrictions imposed by Microsoft, the Phish Hook button can currently only be used on "User" mailboxes and will not work for "Shared" mailboxes.
Error: You cannot perform this action. Add-ins are not supported in this folder

Microsoft has imposed restrictions that prevent add-ins, such as the Phish Hook button, from activating outside of your primary mailbox. Currently, it only works for 'user' mailboxes. This error can occur when reporting an email in a shared mailbox.
The Phish Hook button is unable to connect to our servers
For the Phish Hook button to function properly, your users need to connect to resources, such as remote servers or APIs, to perform certain tasks.
If you have a firewall configured, ensure that the following egress routes can be accessed by the Phish Hook button users. Specifically allowing these routes will only be required if egress traffic is locked down, preventing general internet access.
If your end-users are behind an internet proxy, you need to ensure that they can connect to the following URLs:
outlook.office365.com
outlook.office.com
tacklephishing.com (please note the reverse order of Phishing Tackle)
How to create a HAR File (for Phishing Tackle Support)
If you are still experiencing consistent issues with the Phish Hook button after trying the troubleshooting suggestions above, please create a HAR file for our support team. As every network is different, we can't diagnose network issues, but we can help to inform you of what is being blocked. The example below is for the Chrome browser, but the settings will be similar for other browsers.
Steps to create a HAR file:
Ask a user who is experiencing an issue with the Phish Hook button to log in to Outlook on the web (OWA).
Select an email to report. If you are experiencing an issue with only a particular type of email, please ensure that type of email is reported.
Click on the Phish Hook button in your browser (you may be required to click the ellipses to use the Phish Hook button).



Once the Phish Hook button window is open, ask the user to right-click and then click "Inspect".
Navigate to the "Network" tab and ensure that "All" traffic is selected.



Start capturing network traffic and ask the user to click the Phish Hook report button.



Ask the user to click the Export HAR button and then save the HAR file to their computer.



Please send the HAR file to our support team (support@phishingtackle.com) as an attachment for us to analyse the file.

Please let us know if you require any further assistance, you can contact our support team by clicking here. Or by sending an email to support@phishingtackle.com