Create a Campaign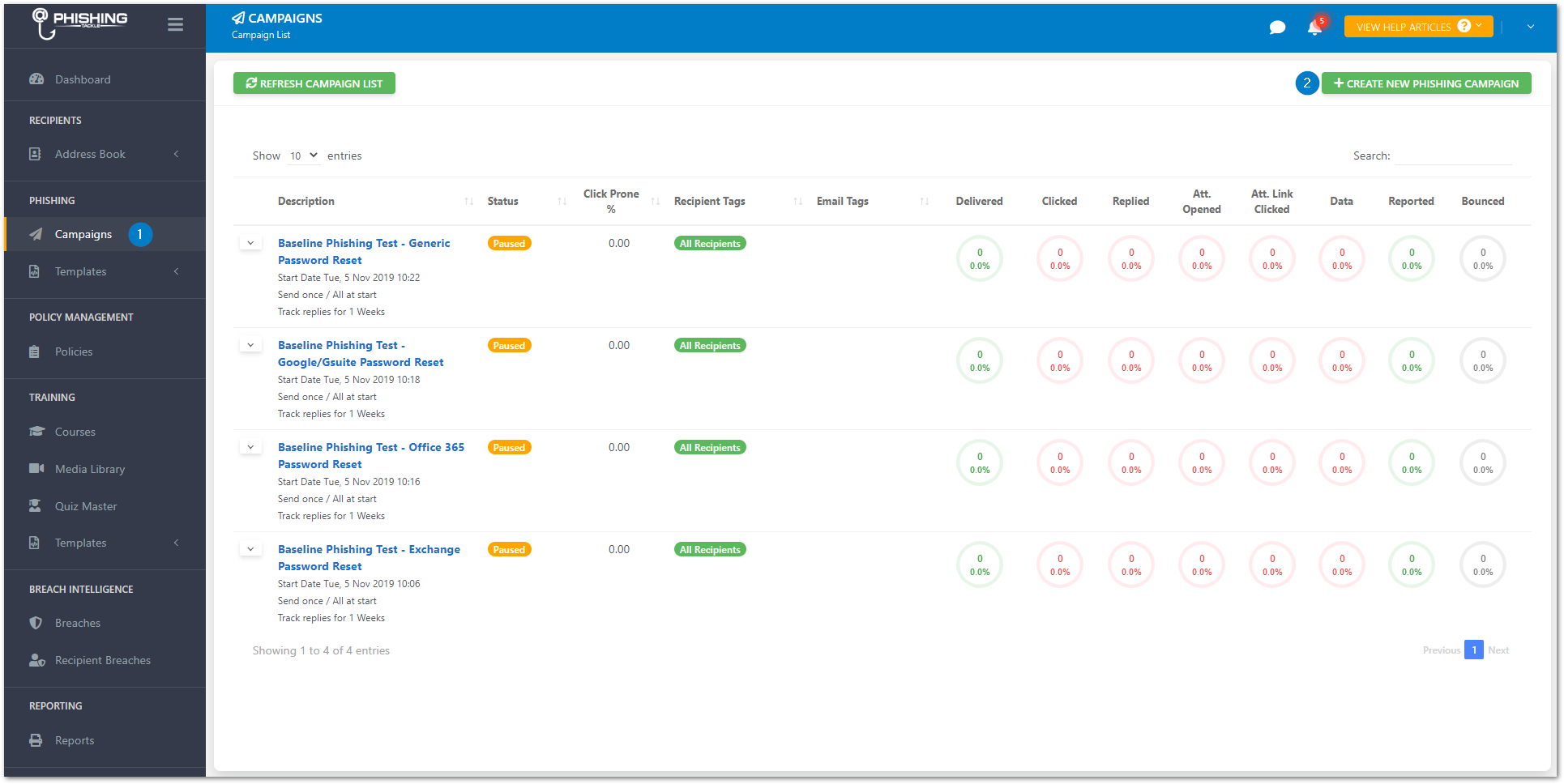 Click "Campaigns" under "PHISHING" on the main menu

You'll notice that there are several pre-made campaigns. You can simply click the dropdown menu to the left of one of these and hit "Unpause" if you'd like to use a generic baseline test to all recipients. For this example we will create a new campaign from scratch.

Click "CREATE NEW CAMPAIGN"


Call it "Baseline Test"
Assign it the Tag "Baseline Test"


Select the "No Training" Tag to send to


Choose a date/time and Time Zone to start the Campaign

All Campaigns will default to the current time and the Time Zone set within the organisation settings

Select Send all emails now
Leave blank the exclusion Date Tags box
Select Never to repeat the emails


Select 1 Week to track the Campaign for (this is the default setting for new Campaigns)
Leave blank "Track user replies" (this is useful though we will not need it for the Baseline Test)


Select the English Tag (if you'd like English emails. Naturally you can select any tag(s) you like here!).

You can also Exclude any email tags you may not wish to include in your campaign (E.g. here shows "Very Difficult" tags excluded)

Select Full Random

This is prudent for campaigns sent immediately as staff will notice quickly if they all receive the same email at once

Select Random Domain
Select Alarm Bell - Whoops!

This is the Landing Page Template we decided on in Step 5

Select the Failed Baseline Test Tag we created in Step 2
Click SAVE


You will see the status is "Waiting", all Campaigns are refreshed every 60 seconds so refresh after a minute or so and you will see it will have changed to "Started"
For further information on creating a phishing campaign, refer to this article.