Please note: The processes surrounding the creation/management/distribution of Bulletins are identical to Policies below. Please use this guide interchangeably with Policies/Bulletins.
Within the Phishing Tackle platform, you can manage and distribute organisational policies from the Policy Management module.
Below is everything you need to know regarding the Policy Management module.
Skip to:
The Policies Page - Overview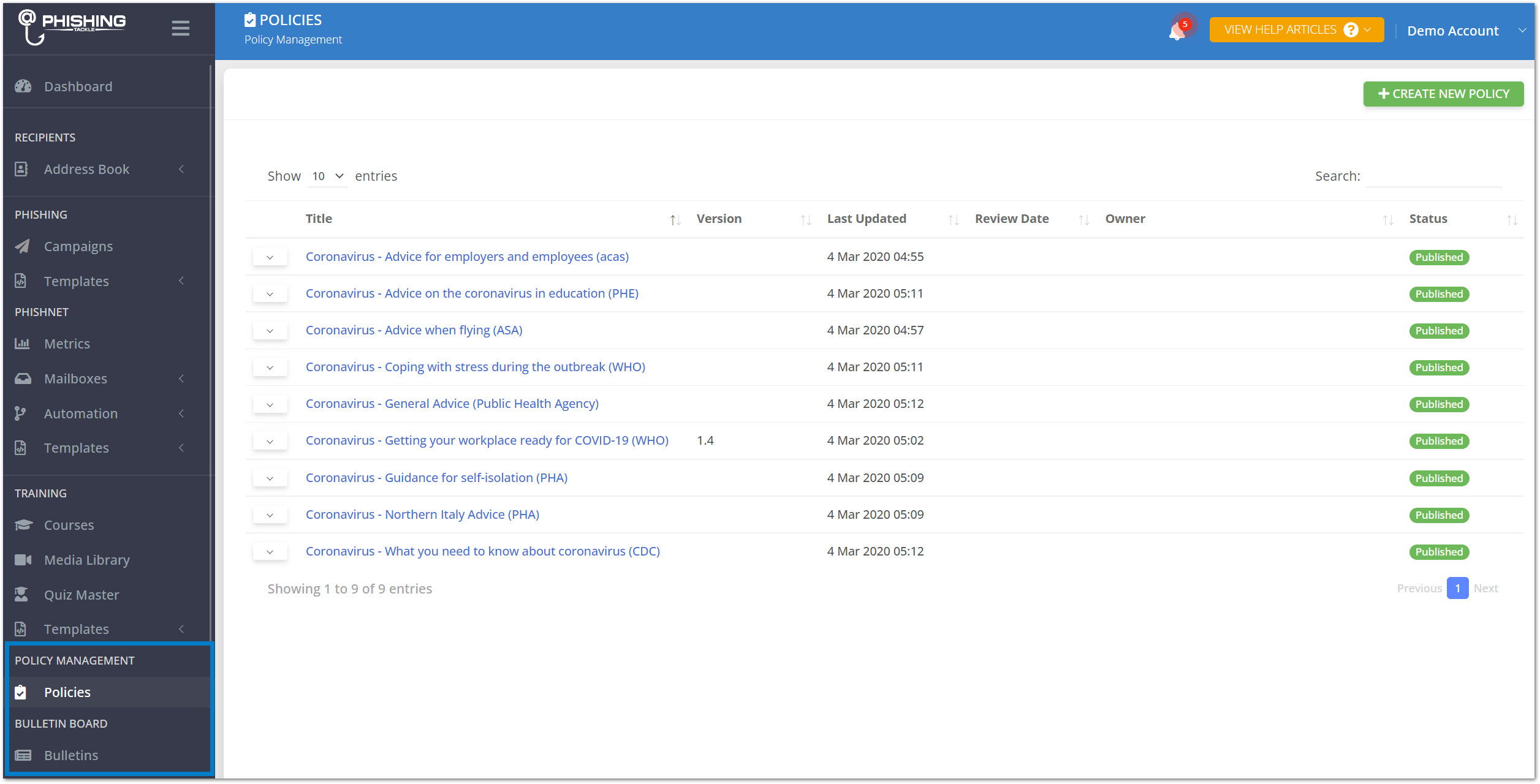 The Policies Page gives you a top-level view of all your organisational policies, or indeed anything else you choose to distribute using the module.
From here you can:
Create a new policy
Edit/delete existing policies, using the drop-down menu to the left of each title
View:

Version number
Last updated Date/Time
Review Date
Owner
Status, which can be:
To create a new policy, follow the guide below.
Creating a New Policy
From the Policies Page (above) click "CREATE NEW POLICY"

From the Policy Settings page, enter the required information. (Example below)


Title & Description

Free-type fields, visible to admin and end-users

Document Owner

Free-type field, visible only to admins

Document Version

Alphanumeric field (no special characters)
Visible to admin and end-users

Review Date

Date field (Date format in Organisation Settings)
Indicates when a policy requires review, Visible only to admins

Status

Select from:
NOTE: Policies must be set to "Published" to be available in new training courses.

Upload Policy Document


Only .PDF or open source equivalent files can be uploaded (Max: 10MB)
Click to browse for file or drag and drop to upload

Allow downloading of Policy


Checkbox
Checking this enables users to download the policy from the preview window

NOTE: Downloading a policy does not count as being completed, the user must acknowledge the policy through the platform to mark as complete.

Review Time in minutes

Number-only field
Set the amount of time a user has to acknowledge the policy

Document Acceptance Requirements

Select from:

Accept each page

User is required to acknowledge each individual page and cannot skip pages without acknowledging them

Accept on final page only

User is only required to acknowledge the final page

Checkbox Text & Per Page Acceptance Text

Free-type field
NOTE: Only visible when "Document Acceptance Requirements" is set to "Accept each page"

Final Page Acceptance Text
Distributing Policies
Once a policy has been created, it can be distributed to end-users and admin users alike in the same fashion as one distributes a training course. Follow the guide below to distribute a new Policy.
After creating a policy (or if one already exists), click "Courses" under "TRAINING"
Click "CREATE NEW TRAINING COURSE"
Give the course a description:

Select who to distribute the policy to:



NOTE: In this example it is going to all recipients, but you can distribute it to any tagged recipients you choose

Assign a distribution schedule:


In this case, we have no need for an end date as we are automatically enrolling new users.

Assign/Remove any tags from users when they complete the policy:

Click the Policy/Policies in the "Available Content" column to move them to the "Selected Content" column.

Select any notifications you wish users to receive as part of the policy distribution:



In this case we don't require any notifications, but feel free to choose any that suit your situation

Hit "SAVE" to return to the "Courses" page


Here you will see your new policy!
To learn how end-users will see their policy content, check out this article: The (non admin) User Dashboard